Robin Flower's Mandolin Lessons
Whether you want to play folk, oldtime, Celtic, or even Cajun tunes on this mighty little instrument, I can teach you how! Through tunes I teach chords, melodies, soloing, useful scales and theory, and rhythm chops. I play mandolin, fiddle, and guitar with my students to give them a feel for what its like to play with other player and other instruments. I encourage all my students to get out and play with other folks.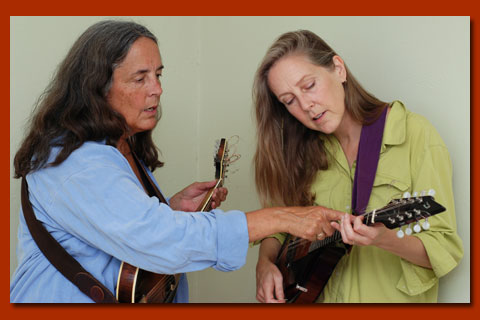 Please go to the menu and click on Robin Flower's SwingStringBand to read about this fabulous student group that you can join to use what you learn in lessons in a band situation. Great people and a lot of fun with a culminating house concert.
I have taught mandolin privately and at music camps for 30 years and remain a dedicated lover of the instrument.
Please contact me at flower2mcl@earthlink.net or call 510.482.9479.
-Contact me before August 29th or after September 12th-
To find out more about my recordings and performances, please go to flowerandmclaren.com
Robin Flower is on the Board of the Freight and Salvage in Berkeley California